A Special "Thank You"
To all of our monthly donors and customers for your continued support.
Your generosity helps many families in their time of need.
***IMPORTANT***
FISH is open for both shoppers and referrals 9:00am to 11:30am
Monday - Wednesday - Friday - Saturday
We will reopen for donations on Saturday December 4th from 8am to 12pm at the dock.

***SPECIAL NOTICE - We will be closing at 11 am on Friday, December 3rd so our generous Volunteers can attend a Christmas Luncheon.
***EXTRA SPECIAL NOTICE: Our $5.00 BAG SALE will be held Friday, December 10th and Saturday, December 11th beginning at 9 am and continuing until 12 noon. It's EXTRA SPECIAL because that will be the kick-off of our Monthly BAG SALES that will now be scheduled for the SECOND FRIDAY AND SATURDAY of each month. Mark you 2022 Calendars NOW.


*** FAMILIES IN NEED ***
If you or someone you know needs help with housewares, linens, food, or clothes
call Coordinated Entry at 636-856-5151 and ask for a REFERRAL to FISH.
We will be ready to help you on a Monday, Wednesday, or Friday from 9:00 am - 11:30 am.
After receiving a referral please call FISH at 636-447-5482 for an appointment.

*** THRIFT STORE ***
FISH Thrift Store is NOW OPEN on a "First Come, First Serve" basis on
Monday - Wednesday - Friday - Saturday
from 9:00 am to 11:30 am

For everyone's safety we will be following the COVID guidelines for social distancing as much as possible.

To achieve that goal we are limiting the number of shoppers entering at one time. All others will be asked to leave their name, cell phone number, and return to their vehicle until we call them for their turn to shop.

Upon entering we ask that you wear a mask and allow us to take your temperature.
(Unfortunately children will NOT be allowed to enter at this time.)

*** IMPORTANT ***
Please do not make an appointment or come to shop until after you have been in quarantine
for at least one week if:
1) You have been around someone with COVID symptoms
2) Are experiencing symptoms yourself
3) Have traveled out of state
Thank you for your patience, understanding and support.
May God continue to Bless you and our Country.
​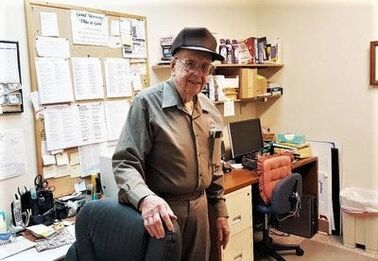 Special Recognition
Maurice (Morris) Helmich recently retired at the age of 101 yrs after volunteering countless hours of his time and knowledge for over 35+ years to FISH of St. Charles. During those years he served as the Director of FISH and was the Treasurer of FISH.

Upon his retirement and as a way for us to express our heartfelt gratitude to Maurice for his unselfish contribution to FISH of St Charles he was voted our
​ FIRST EMERITUS MEMBER of the Board of Directors.

Morris not only impacted the lives of many people in the community which he helped us serve, he also positively influenced the lives of his co-workers.
FISH = Friends in Serving Him
Mission
Mission
​
FISH of St. Charles County is a volunteer organization to the less fortunate in St Charles County providing food, clothing, linens, housewares and care.
​Founded 1969


FISH of St Charles​
​1150 Cave Springs Estates Drive
St Peters MO 63376
636-447-5482